Email and Unified Inbox
Send emails to guests and view their replies in a unified inbox that brings together emails and inquiries from multiple sources. Use email automations to take things to the next level.
One place for your guest communications.
Keep your guest communication in one place with LMPM. You can send and receive emails directly inside LMPM's unified inbox, edit styles, and set-up loads of time-saving templates.
All of your past inbound and outbound emails are stored inside LMPM at the guest level, so you'll be able to see all of the communications that have taken place between your company and the guest.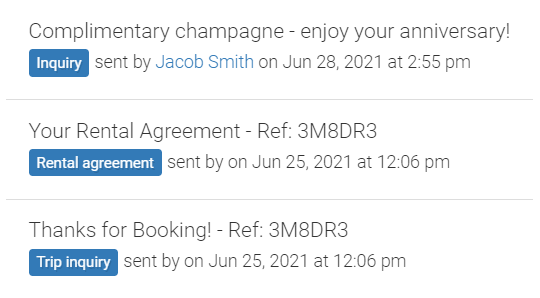 See LMPM's unified inbox and email automations in action
Unified Inbox
All emails and inquiries from OTAs and your website, plus emails from prospects and guests are placed in a unified inbox where you can set tags, mark whether an email requires follow up, or even assign an email to a specific member of your team.
On Brand
Customize the appearance of your emails to ensure your communications are in line with brand standards.
Templates
Write an email once and then set it as a template to use it repeatedly. Use custom fields to add a personal touch.
DKIM Verification
We authenticate your email using DKIM verification to reduce the chance that your emails sent from LMPM are flagged as spam.
Automate your emails.
Automatically send emails after booking occurs as well as before, during, and after a guest's stay. You have complete control over what emails are sent, when they are triggered, and to whom they are sent.

Powerful software that makes it easier to run your business.
See how you can use LMPM to take bookings, efficiently manage your properties, and ensure your guests can have an amazing stay.