The future of vacation rental software is here, and it's never been easier to run, optimize, and automate your property management operations through the combined technologies of LMPM and Breezeway.
About Breezeway
Breezeway's property care and operations platform helps coordinate, communicate, and verify detailed work, and deliver the best service experience to clients.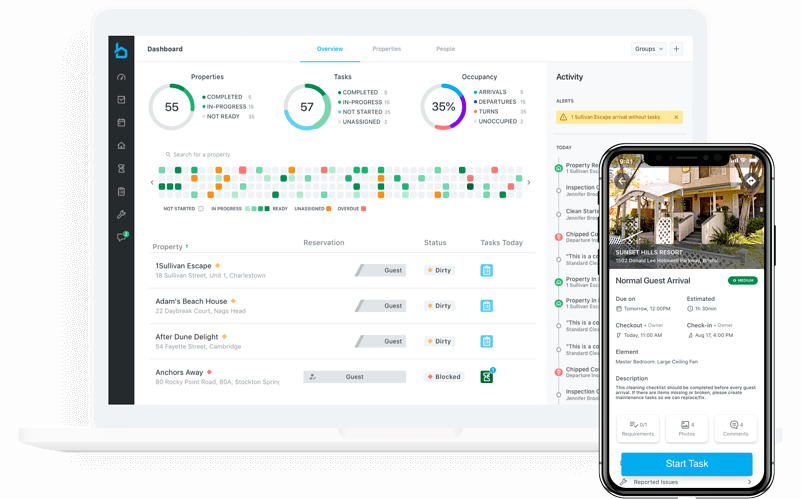 With tools for intelligent task scheduling, quality assurance, real-time work coordination, guest messaging, supplies management, owner reporting, and more, Breezeway helps thousands of short-term rental managers and hospitality operators increase their operational efficiency, eliminate hours of manual work, and boost service revenue.
Created by the founding team of FlipKey (acquired by TripAdvisor), Breezeway is elevating the experience at every property.
LMPM and Breezeway's Integration
The LMPM and Breezeway integration enables users to pass check-in/check-out, property, and guest data from reservations in Lightmaker over to Breezeway in real-time. The seamless connection enables short-term rental operators to harness more data from their technology stack, and use purpose-built tools to power their field operations and guest communication.
"We're very excited about our new partnership with Lightmaker," said Peter Andruszkiewicz, Head of Business Development at Breezeway. "Short-term rental managers need the tools and systems they use to work in tandem with one another, and that's what Breezeway's integration with Lightmaker now provides. This means professional managers can spend less time coordinating and communicating information with teams, and more time providing better guest experiences."
"We are thrilled to partner with Breezeway and provide access to their powerful operations solution for our growing customer base," said Sean Raftree, VP of Business Development. "Peter and his team do a fantastic job with our clients and we look forward to working together as we continue to redefine what vacation rental property management software should do."
The Best of Both Worlds

Real-time Trust Accounting
Direct Booking Site
Trip & Activity Manager
Distribution
Automations
Unified Inbox
Automate task scheduling
Customizable checklists
Mobile Apps
Monitor work in real-time
Share detailed reports with owners
Message guests
Find out more about LMPM's property management software.
Book a demo to see how our powerful property management system can help your business.